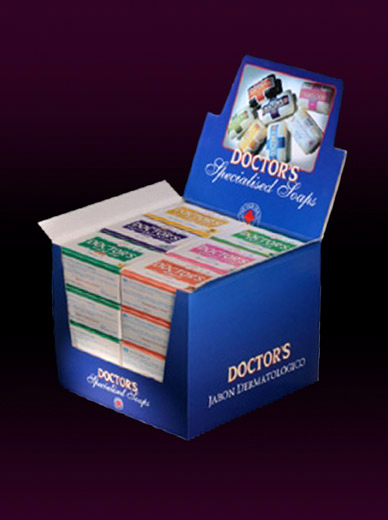 100 g 24 pcs ANTIINFECTION The eucalyptus oil exerts healing effect in infections and herpes. Repels insects and calms down irritated skin after insect bites. Superfatted. Deodorizes and refreshes. Suitable for frequent use.
100 g 24 pcs ANTIACNE The peppermint oil and the antibacterial additives remove the excessive fat from skin, diminish the possibility of bacterial colonization with species causing acne and papules. Superfatted. Calms down and cools the skin. Suitable frequent use.

100 g 24 pcs ANTICELLULITE The rosemary oil impedes the excessive retention of water in tissues and the formation of cellulite. To obtain a better effect use massage glove. Stimulates blood circulation and curbs muscle fatigue and pain. Superfatted. Refreshes and softens the skin. Suitable for frequent use.

100 g 24 pcs ANTIPIGMENTATION Proactive peeling effect for the dead skin cells. Recommended for hyperpigmentation (freckles, dark spots). Active ingredients borax decahydrate.

100 g 24 pcs ANTIECZEMA For thorough cleaning and sanitation of inhealthy, problematic and sensitive skin. It is recommended against dandruff, acne, psoriasis, eczema. Active ingredients natural pine tar.

100 g 24 pcs ANTIDANDRUFF Diminishes the secretion of the sebaceous glands. It is recommended against seborrhea (especially the greasy one), dandruff, acne, comedos (black spots). Active ingredients bioactive sulphur.

100 g 24 pcs BABY Specially designed for the delicate baby skin. Suitable for frequent use. Made from refined, pure plant oils and constituents. Superfatted, contains glycerin. Softens and moisturizes the skin. Highly recommended for sensitive skin.

100 g 24 pcs CREAMSOAP It has soft cleaning effect. Contains special moisturizing and nurturing components. Keeps the skin soft and smooth.

100 g 24 pcs INTIME Prevents the phlogistic processes and eliminates the disagreeable smell due to its special antibacterial and deodorant formula. Not irritant

100 g 24 pcs PEELING Exersises an exfoliating effect on the sloughs and flecks while gently cleaning and refreshing the skin.